Our Happy-Touch®-Commitments

Our Mission: Apps, that kids love and parents trust.
That's why we have created the "Happy-Touch®-Commitments".
We promise all Happy-Touch®-Apps are made without advertising, push-messages and hidden costs. In addition, latest apps have a childlock for in-app purchases and external links. Based on these "Happy-Touch®-Commitments" we can provide you the best apps for kids!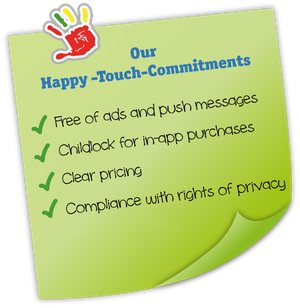 √ Free of ads 
Our apps are made without annoying advertising! Why? We believe that kids should play undisturbed. Banner ads distract and confuse kids. We could not control what content and advertising will be displayed and it can happen that ads will be displayed which are not suitable for kids. We take no risks! That is why our apps are and will be 100% free of ads!
√ Free of push-messages
Push-messages are notifications ("New app available") appearing on smartphones or tablets, even if the device or app is not in use! Sometimes push-messages are helpful (e.g. news apps), but generally users are bothered by push-messages. We believe that kids apps do not need any push services. Thats why our apps are made without any push-messages! If you like to keep up-to-date, you can visit our website or follow us on
Facebook
!
√ Childlock for in-app purchases and external links
Do you read about kids who accidentally made in-app purchases because they appeared during gaming? With Happy-Touch®-Apps parents do not need to worry any more! Our in-app purchases never appear during the game and are not necessary for success. Latest apps are protected twice with a parental gate for all in-app purchases and our information area. Thus we ensure that only adults buy game features or the full version. Also external links (website/ facebook) can only be opened by parents. Little by little all of our apps are updated and equipped with the parentel gate.
√ Clear pricing

Nearly all our apps can be tested and played by parents and children for free. This free version helps parents to find out whether the app is suitable for their kids' skills and interests. If parents like the app, they can download more features or the full version (often for less than an Euro!). On the main menue the purchasable features are marked with a lock. There are no purchases or virtual goods necessary (or existing) during gaming. The game's success does not depend on any purchases.
√ No demands of purchase

We do not want to take advantage of kids' play instinct or of their inexperience in business. Therefore we do not use any form of direct requests. Only parents should decide whether they want to buy the full version for their kids or not. In addition, there are no demands to recommend the app to friends or to promote in social networks. A recommendation- and facebook-link is placed only in the parental area.
√ Compliance with rights of privacy
We respect the privacy of our app-users. Therefore, we do not save any personal data. more information
OUR CHECK-LIST
To create 100% child-oriented apps and to keep all our promises, we check each app
for age-based content, child-friendly handling, educational values, fun and safety.
Only if we can answer all questions listed below with a honest "Yes", the app will be published.
Age-based content
√  Does the app fit in one of our age ranges (e.g. babys, toddlers, preschoolers)?
√  Does the levels of difficulty match to kids' skills and abilities?
√  Is the recommended age visible for parents (e.g. app description/ icon)?
Child-friendly handling
√ Can kids play the app intuitively without (long) instructions?
√ Can kids play the app independently/ without help of an adult?
√ Are all buttons (e.g. "back") self-explanatory, easy to recognize or to learn?
Educational Values
√ Does the child receive any visual or auditory feedback on play- and learning-successes?
√ Does the app foster the skills and abilities of kids and their development?
Fun
√ Can kids play the app for a long time/ several times without getting bored?
√ Do kids identify with the characters as well as with all auditory and visual elements?
√ Is the app available worldwide or is the choice of different languages possible?
√ Is it obvious that the free version does not include all features/ that in-app purchases are possible?
√ Can kids play the app games, even in free versions, from start to finish and achieve successes (without additional purchases and actions)?
Safety
√ Is the app without any advertising and push services?
√ Is there an info area for parents?
√ Are the features of the full version obviously marked inside the app?
√ Can parents read up about privacy policy?