HappyTouch®: Apps, that kids love and parents trust!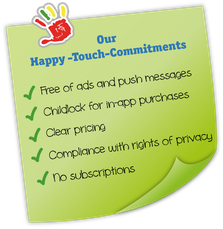 We create kids games with lovely characters and educational values, adapted to the skills and needs of toddlers and preschoolers (0-6 years). Because all Happy-Touch® Apps are designed and tested together with parents and kids, the games promise an endless fun with learning successes for the child.
The apps are available worldwide in five languages.
We promise all Happy-Touch® Apps are made without advertising, push-messages and hidden costs. In addition, latest apps have a parental gate for in-app purchases and external links. Based on these "Happy-Touch®-Commitments" we can provide you the best apps for kids!
You know it: puzzles, books, games – usually they cost a lot of money – but often end up in the corner soon.
Our apps stay more interesting. They focus on the most important steps of learning: touching, hearing, seeing and reacting. And it's even fun for their parents watching and being able to join in.
Experience the variety of our Happy-Touch® Apps!