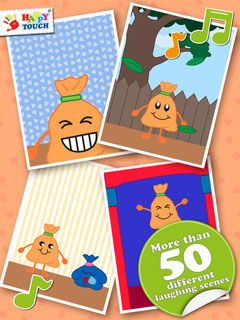 The No. 1 App to make you HAPPY!
It's a great day, it's launch day! The awesome "Baby Laugh Bag" is finally on the iTunes App Store. 
The cheerful laughing bag will catch you with his infectious laughter - try it out! Discover a great variety of the most funny scenes with the laugh bag and his friends. Join his happy world now: 
Baby Laugh Bag by Happy-Touch®
DOWNLOAD FREE Fun for your iPad/iPhone
- More than 50 different laughing scenes
- 1 set with 5 videos for free
- Cute and humorous characters
- Funny animations and sounds 
- For young and old!
Check out a new review on topbestappsforkids.com with trailer here.