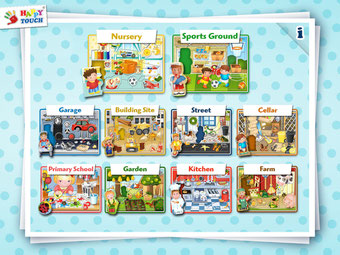 NEW: Happy-Touch® - Set 2 - Around the house
10 in 1: So many new puzzles! 
The second part of the big puzzle-series is now available:
Download here for iPhone / iPad 
"All around the house there are a lot of things to explore! Here it's all haywire. So many toys in the nursery, and in the basement mouse and spider already hide. The busy cook could also need help with the washing up. Thanks to the chaos, you can discover all his delicious food. Only the street gets already cleaned up. Now it's your turn to be busy as well: Can you bring the puzzle pieces into the right order? Give it a try!"