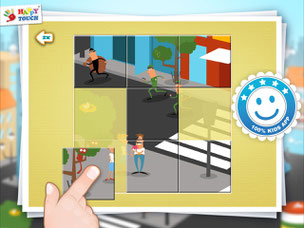 It's time to introduce our NEW app "Big City Puzzle Pack Free" (for kids aged 3 and above)! Especially in contrast to conventional puzzles, this app guarantees long-lasting fun for your toddler. There are six different worlds with 5 puzzle sets and on the whole even 90 puzzle variations. 
Download the FREE version here: iPad / iPhone / iPod Touch 
Test the free version with five puzzle- sets and decide whether you like to get the full version. All of our apps have a childlock for in-app purchases and are free of purchase demands. It's our mission to create apps that parents trust and kids love. For further information read our Happy-Touch®-Commitments.