Dream job vet - we make it possible!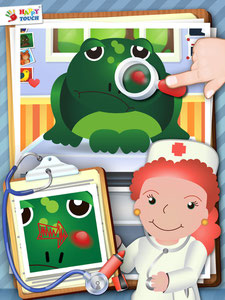 NEW: "Animal Hospital" - App for Kids (3+) 
Have you ever dreamed about working in a hospital for animals? Now this is your big chance! Dogs, cats and other pets even frogs, crocodiles and elephants - they all need your help! More than 40 different animals already wait for you. Check out what is wrong with them and find out what helps best. They will instantly feel better and thank you as their vet! It's now available on iTunes - Download for iPad / iPhone / iPod Touch
topbestappsforkids.com loves our new app! - "We know of no other vet game that even comes close to so many different patients than in this app. Whether dog, cat, mouse or other fancy animals such as warthog, flamingo and a shark - sooner or later, every child will find it's very own favourite animal in the surgery. (...) As different as the animals are, as different are the aches and pains, that the animals are bringing along with them to the kids at the vets. (...)"