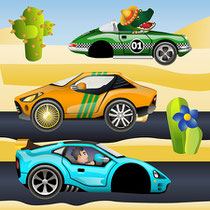 Funny Cars - Find the difference!
Especially when your kids (2+) love cars they will have fun for a long time with our new great "Find and Touch"- game! There is so much to discover: racecars, construction vehicles, police cars and many more. You can choose the amount of differences based on the age of your kid and there are always new differences to find! 
See for yourself and get 4 pictures for FREE! 
Download for iPad / iPhone