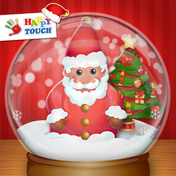 We're glad to present you our christmas apps for kids and for the whole family.
"Happy-Touch" would like to wish you and your family a merry and joyful Christmas season! 
White christmas with "A Christmas Snow Globes Set"!
Simply shake and - hooray - it's snowing! This app allows you to choose from among 6 enchanting snow globes! Each globe is individually filled and plays an appropriate Christmas song to match the scene in the globe (e.g., Jingle Bells). The app is available for iPhone, iPad, iPod Touch and Kindle.
Go to iTunes App Store / Go to Amazon App Store
More great christmas apps, puzzles and memos!