Kids usually have a pretty good idea of what they want to be when they grow up. Many kids dream of going into space or of being firefighters when they grow up because it seems like an exciting job. Sometimes they dreaming of jobs that don't really exist like superheros or princesses. Fortunately their dreams change quickly. No wonder! There are so many great jobs. ;-)
With our new fantastic job puzzles your kids (3+) can experience different jobs easily.
...
They can work on a puzzle and watch funny animations. Today Set 2 of our funny job puzzle with 8 amusing jobs release! 
What was your childhood dream job? 
The Washington Post created a gallery with jobs that most men and women dreamed about when they were kids. A popular childhood dream job among men was being an astronaut. Women dreamed about beeing a teacher or veterinarian. (Link to washingtonpost.com) Whatever your childhood dream was, we hope that your current job has something to do with it! :-)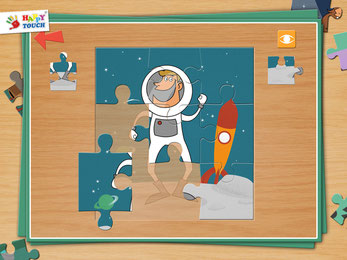 A Funny Job Puzzle - Kids Apps for toddlers and preschoolers - by Happy Touch Kids Games®
See for yourself and test the free version. 
* 8 amusing jobs
* 9 pieces per puzzle 
* Funny animations
* Preview pictures
* Easy to use


Go to iTunes App-Store: Job Puzzle - Set 1
Go to iTunes App-Store: Job Puzzle - Set 2